CLOTHING CARE /
So your clothes last longer.

a little dirty
Washing your clothes a few times will make them last longer, in addition to saving water and electricity.

use your hands
If you have a stain, remove it by hand, there is no need to wash your entire garment.

fill your washing machine
Take advantage of the water and energy of washing by filling your drum (without making it too tight).

cold water
Wash your clothes with cold water. You save energy and prevent your clothes from fading and the fabrics hold up better.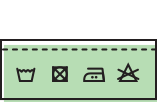 read the label
And pay attention :)

cloths in the sun
Hang your clothes to dry, using the dryer is one of the activities that uses the most energy in the care of your clothes. The dryer can affect the quality of the fabric, shrinking it and fading colors.